Christmas is almost upon us and you're ready to take a holiday season break. Time for a last-minute website check before that break: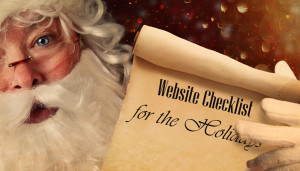 Are any special holiday hours, notices displaying correctly and, if possible, scheduled to automatically end?
Does your site have a holiday greeting for visitors, customers, staff, and so on?
Where practical, do you have something visual on your home page to show it's the holiday season?
Have you scheduled at least one blog post/article to publish while you're away?
Have you made any necessary arrangements for someone to monitor and manage the site if need be over the holidays?
Taking care of all or any of these will help make your holiday time more of a holiday.