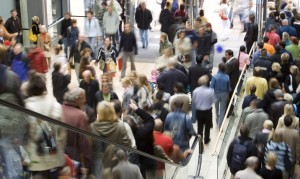 One of marketing's greatest promotional feats – the legendary, or perhaps more accurately, mythological Black Friday – is about to descend on us.
Unless you're a retailer affected by the marketing machinations, you might feel that your business is just sitting on the sidelines. But one way to ride the wave of publicity is to write an article tied in with Black Friday and give it lots of promotion on social media. And that means including the term 'Black Friday' in titles, headlines, content, and so on.
The key is to find your own interesting or humourous take on Black Friday.
Here are some starting points:
The consumer side:
Why I Don't Observe Black Friday
Play on the near-religious zeal with which some retailers and consumers approach the day.
My Black Friday Bucket List
Items you would love to get at a deep deep discount before being trampled at the exits.
Beyond Techno Black Friday
Think about items your customers could use that are related to your business: massage therapists could point to deals on home care products or plumbers could find deals on fixtures/appliances that get missed in all the talk about big screen TVs and gaming consoles.
Pulling Back the Curtain on Black Friday
There's so much consumer mythology surrounding Black Friday that you have plenty of topics here. Details.com did a great round-up of 9 Reasons Why Black Friday and Cyber Monday Are Over-Rated.
The business side:
Forget Black Friday. It's Black May That Counts
Find a parallel day, week, month, season in your industry that you can compare with Black Friday.
The Truth About Black Friday Stats
Show how some of the business myths about Black Friday are misunderstood, untrue, or blown out of proportion. Good opportunity here for an infographic in particular!
My Tips For A More Profitable Black Friday
Whether or not you're a business affected by Black Friday, if you've got some helpful tips for other retailers, share it with the world.
Remember, don't write this piece just because Black Friday's a great opportunity for exposure. Find an angle that interests you and you'll end up with a great piece that's worth promoting.