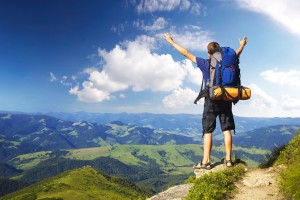 Not only is it the holiday season, it's year-end, and the perfect time to write a piece reflecting on the last 12 months. Now, before you say that everyone writes articles about the events and trends of the past year, ask yourself why.
Readers love round-ups.
There can be a lot to be learned from looking back at what's just happened in our lives and the world. And at the very least it's helpful to summarize lessons learned or progress made (or not made). Unless you're just repeating something everyone else is saying, year-in-review posts can be among your most popular. Here some ideas to get you started:
5 Books or Articles That Made a Difference For Me
Share a paragraph about each one that you read over the past year, offering a short summary plus a sentence or two on what it meant to you. The book or article does not have to be written in the past year; you're telling readers about what you read this year that stood out for you. You could find a theme for these five items – all business, all personal, or a mix. Or get even more focused, like 5 Articles About Customer Engagement.
Trends in My Personal Business or Industry as a Whole
What were the most popular vacation destinations of your clients, or what designs dominated living rooms this year, or what were the key statistics for personal investing compared with last year? You want something that will both match your visitor's interests and will catch their interest. Look for the unexpected or the encouraging or the very odd.
The Highlights
Running down the key moments of the year for your business, your industry, your city, or whatever can make a very good article. It's easy to forget all that went on or we may have missed some moments, so you're providing the reader with a quick overview. Be sure to write from a personal standpoint – you're not a reporter – and make sure the focus is clear: the decisions of city council that most affected businesses or important moments for your staff or the moments that changed your industry.
If you have a traditional year-end wrap up, that's great too. It's something your readers will look forward to and provides them another installment in "the series." But always be on the lookout for ways to make this year memorable in its own right.
TIP: Looking to see what others did last year (or this year) is a great way to get ideas, but it should only be that: inspiration. Your article needs to reflect you.