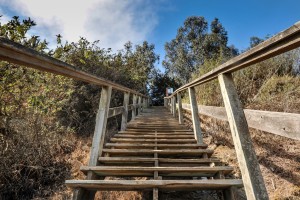 Site speed is one factor that sends visitors running, but another is having to click too many times to get what they need. Check your site to make sure the good stuff isn't more than a click away.
Here are some situations to watch for:
Unnecessary "entry" pages.
These are pages with no navigation except a link to enter the site. Sometimes these can be useful, such as directing visitors to various site translations or when there two or more very distinct sections of a site. Years ago it was common to see pages like this, which said Click to Enter Site. Now we understand that this results in very unhappy visitors, like those who try to enter this site.
A call to action that leads to a page with the action to take.
For instance a notice inviting visitors to sign up for an email list and the link takes them to a page where they then fill out a form – put the form right there with the call to action. Or on a page describing a service with an invitation to call or email, but you have to click to another page to get the number or email form – put them right there on the page.
Using index pages that link to sub-pages which aren't on the navigation menu.
The typical situation is a link to a services page, which is just a set of links to the details of each of the services. There's nothing wrong with an overview page like that, but make sure the individual service links are on your menu so the visitor can choose to go there directly.
These are just a few examples – go through your site and see if you're making visitors work too hard.