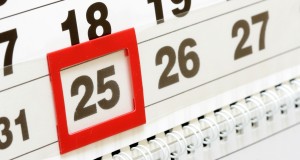 The holiday season is a season of changing schedules, so use the web to keep things clear for everyone. Here are a few ways to do that:
Post your holiday schedule on your website.
Put it somewhere visitors are sure to see it, like in the sidebar where it's always visible or use a special popup announcement (make sure it only shows to visitors once – and you might consider doing this only for a short time before the changing times/dates)
Post your holiday schedule on your Facebook page and/or on LinkedIn.
Again, make sure it's visible.
Send a special notice to your mailing list.
This is a great chance to also send out a personal holiday greeting to your subscribers.
And have fun with your announcement:
Dress it up with classy or playful graphics (you know your audience)
Do a short video with a holiday greeting and a fun way of displaying your hours (such as each staff member holding up a sign for a particular date or time)
Try new ways of wording the change in schedule (as long as it remains clear)
Remember to remove any announcements once the holiday season is over.