Use a shortened URL when you have tracking or other codes in your URLs.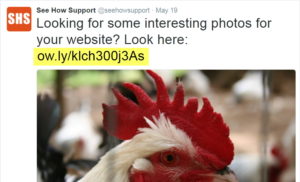 Users of social media are familiar with shortened URLs, but they aren't just for situations where you're trying to save space. This article is about when and how a small business should make use of free URL shortening services in emails and other promotional material.
Instead of seeing this:
http://seehowsupport.com/one-task?utm_source=mc-web-contacts&utm_medium=email&utm_content=one-task&utm_campaign=free-newsletter
a URL shortener can produce something much nicer:
http://bit.ly/short-and-clear
which is useful in several ways:
Some email programs have a problem with URLs that are longer than a single line and I've seen those links not work at all.
If someone copies and pastes the long URL, there's a chance they'll miss something. It only takes losing a character at the end to make the URL not work the way you want it to.
Visually it's easier to understand what the shortened URL is about. Now in the example above, I used a customized shortened URL. If you use the standard shortened URL, you get endings like "klch300j3As" which are as cryptic as the long URL.
You'll sometimes hear people say that shortened URLs are more memorable. I don't know the last time I tried memorized a URL. Domain names yes, but not URLs. Even with custom endings, which I talk about later, few people are likely to remember the URL. However, a custom shortened URL is definitely easier to read, so more memorable in that sense.
Why Not Use URL Shorteners All The Time?
At the beginning I said to use shorteners when you have tracking or other codes in your URLs, but what about regular links?
If you have good URLs for your content, you don't want to hide them by using a shortener. This link, for example:
http://seehowsupport.com/content/writing/when-sending-away-visitors-is-a-good-thing/
not only promotes my domain name, but makes very clear what the topic of the post is.
Another reason for not using URL shorteners for every URL you send to people is that there are some minor risks involved, which I discuss in the section below on choosing a shortener service.
This site has an excellent overview of the pros and cons of URL shorteners.
Also, virtually all links on your website and in HTML emails, use anchor text. That is, you don't show the URL, you have it linked to some text in the body of your article or email. Just like that. So the length of the URL doesn't matter anyway.
And if you want people to easily share your content on social media, you should have sharing buttons, which automatically shorten the URL of the page for inclusion in the post to Twitter, Facebook, or wherever.
But when you do have a giant URL filled with tracking or other kinds of confusing code, what tool should you use for shortening it?
Choosing the Right URL Shortener
By it's very nature, a URL shortener uses redirection. It sends the visitor to the server of shortening service, and THEN to your site (or wherever your link leads). In other words, shortening a URL adds another destination (sometimes more), so there's an increased risk of failure in the chain. If the server's down at your shortening service, visitors won't get to your link. That's why you want to use reliable services, like bit.ly or goo.gl.
You also want the service to be reliable in the sense that, while shortened URLs never expire, they can only last as long as the company that created them.
And finally, you want the shortener to be reliable in the sense that it uses 301 redirects to get to your page. That's the only way to preserve SEO value in your link. If they're using 302 redirects (or simply HTTP redirection!), the shortener gets the SEO value, not you. All the popular shortening services I'm aware of use 301 redirects. But if you're not sure, ask.
Use Custom Shortened URLs
There are two senses in which shortened URLs can be customized:
The first is to have your own short domain name, which is then used by the shortening service in place of their own (for a fee). But only large-scale marketers need to worry about this as part of their brand process, though it's certainly possible for anyone to do.
The other customization is one that every small business can easily do, and should do: replace the code in the URL with your own, clear wording.
Services like goo.gl do not offer this option, which is one of the reasons I recommend the use of bit.ly. You need to signup to use this option, but the basic account is free.
Here's the difference it makes – the actual URL on the left and the customized version on the right: