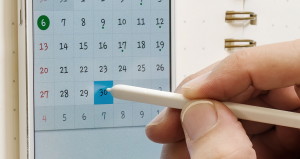 An editorial calendar is a plan for articles to be written over a period of time, usually a year. Editorial calendars can take the pressure off when it comes to article ideas later in the year, as well as ensuring that you don't forget important opportunities. If you Google "website editorial calendar" you'll find a lot of excellent calendar templates you could use.
But there's a problem with many of these templates: they were not written for small business owners.
Giant spreadsheets with fifteen columns per item are great for the content manager of a large website who's trying to plan a busy year. But for the average small business owner who barely has time to think about their site, such editorial calendars are more likely to be a source of regret: one more item they feel they should do, but don't have time for.
So here are some tips to come up with a workable small business editorial calendar:
Set a goal of one article per month
If you end up doing more, great, but that's enough to keep your site active.
Put calendar notes where you'll see them
You don't need a separate file for your editorial calendar. In fact, you're less likely to remember to open it if it's separated from your other business notes. Make a place in your regular business calendar – give it a special colour or location, but keep it where you'll see it.
Plan a month in advance
The June trade show should be a reminder in May, your holiday post reminder in November, and so on, to give yourself time to prepare and post in advance.
Use industry calendars to help you
Check popular magazines or websites for their editorial calendars to help you think of ideas for your site.
What will your visitors/customers be thinking about
Imagine and research what will be on their minds at the particular time of year. Doing a search on the web or particular websites for what was happening last year at that time is handy way of reminding yourself of possible topics.
Think visually
Jot down ideas for images or video to go with your article. Again, this will save time or trigger other ideas when it comes to actually writing the piece. It will also remind you to include a visual!
Plan your promotion too
While you don't need dozens of spreadsheet columns, it's help to make one or two notes about social media next to each month's topic. Just quick notations to yourself like FB or LI will remind you to post on Facebook or LinkedIn when you create your article. Some articles will be better suited to particular social media, so give that some thought.
Things change
Editorial calendars are not written in stone, so keep adding and changing your calendar notes as the year progresses.
Maintain the minimum
It's more important that you maintain a very basic editorial calendar than to have it grow. If you start doing more planning, great, but make sure you do the one-a-month plan and succeed at that.
Have fun
This is your business and hopefully you're doing something you love. Talking about your business and related topics on should be a pleasure – let that come out in your topics and your writing.
Good luck and happy calendarizing!